March
This half term we have been practising adding and subtracting skills, using a variety of different Maths equipment.
The children love using Numicon:
They quite like rods and beads and some children are more confident now using a 100 square: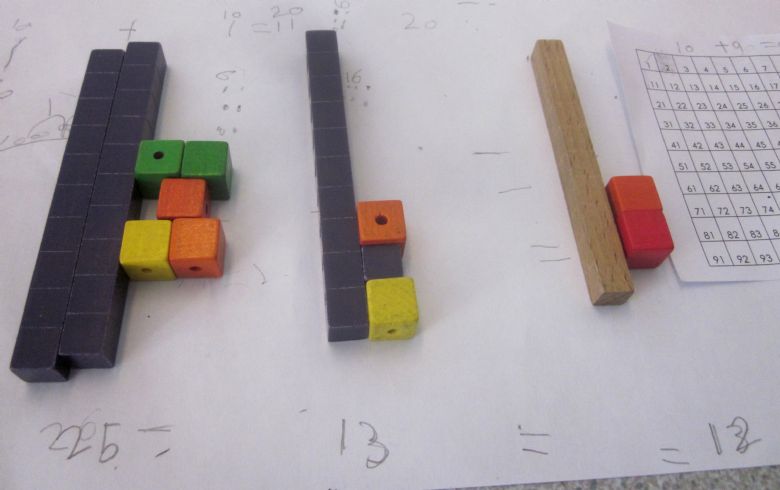 And some are solving quite tricky questions with empty number lines: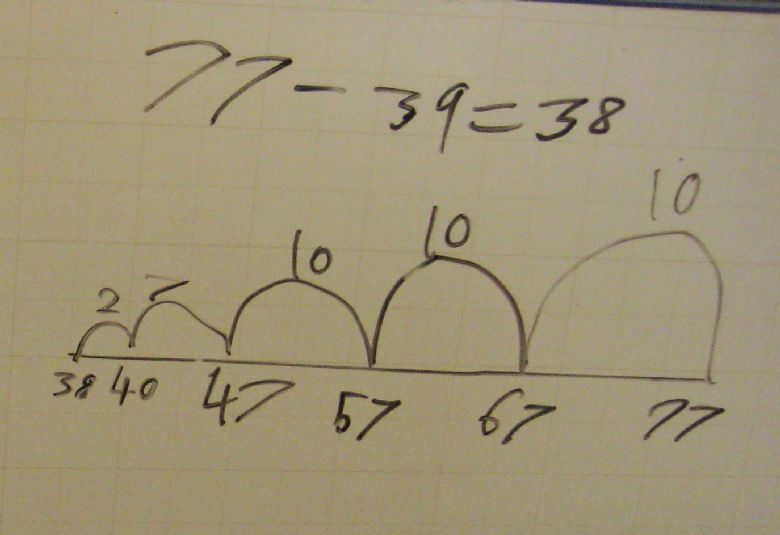 Practice helps!
Meanwhile in English and Science, the children have been investigating different kinds of animals and their life processes, and are busy writing information books about them. They have been learning about the different animal groups and some children can spell AMPHIBIAN !
February
How would you make a house of straw? Or a house of sticks? Or a house of bricks? We used our understanding of house building and practised DT skills, to make strong structures out of art straws, lolly sticks, duplo bricks and little clay bricks. The children learnt to bundle straws, to make panels of sticks held in place by cross-bars and to overlap bricks. They learnt to make triangular structures, vertical paper pillars snipped and braced, and turned boxes. They used these skills to make a shelter for a soft toy, big enough for the toy to get into and strong enough to withstand the huffing and puffing of the fiercest wolf. They shared their learning with Class 1 children and then proudly hosted an open classroom exhibition for their parents.
Just a few of the children's fantastically creative shelters!
January
We have greeted the new year with enthusiasm! In English we have told and retold lots of traditional stories and have enjoyed finding new versions with funny twists and surprises: The Three Little Wolves and the Big Bad Pig, Jim and the Beanstalk and Roald Dahl's Little Miss Red Riding Hood with her new wolfskin coat. The children are busy writing their own versions: The Three Little Chickens and the Big Bad Fox, The Three Little Koalas and the Big Bad Shark, The Gingerbread Family, The Three Philps Girls and the Big Bad Dad....

Inspired by the three little pigs and their efforts at house building, we have been continuing our studies of building materials and their properties. Early in the term, we tested last term's understanding of flammable materials, by burning our Great Fire of London model houses.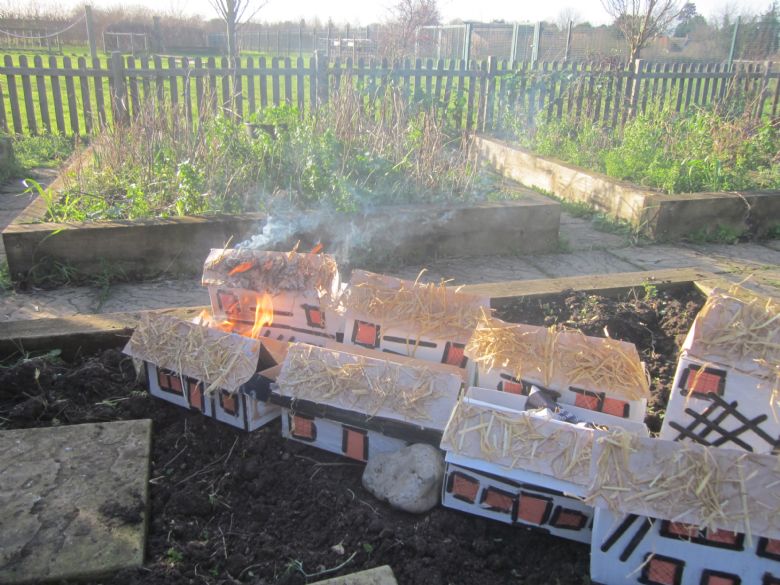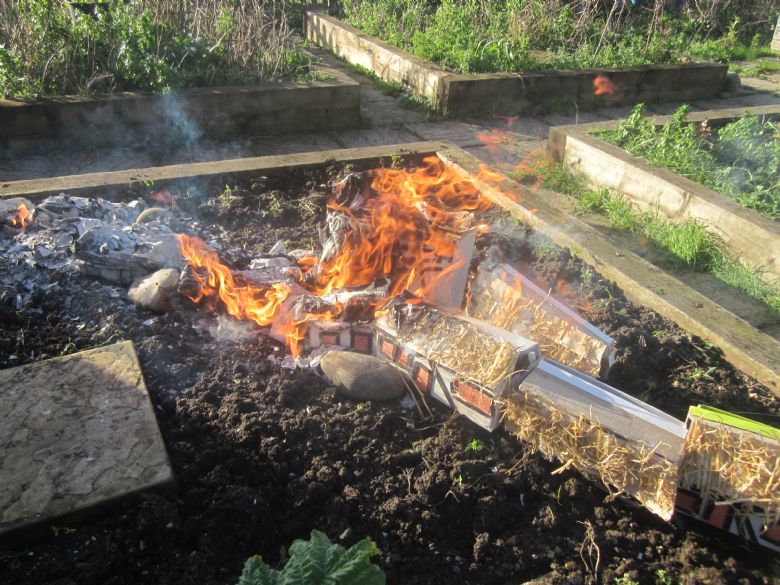 Standing at a safe distance (and with their backs to the prevailing breeze) the children watched as we recreated the Great Fire in the Class 2 veg. patch. Made of very flammable wood, straw, cardboard and paper, our model houses burnt readily, the fire quickly spreading from house to house down Pudding Lane. All that was left was a trail of ash and the fireproof stones along the street. The children were able to relate to some of the emotions of the time and wrote variously about their sadness, loss, excitement and anger.
We have since investigated waterproof materials - good for making tents - and the children will be learning how to make strong stable structures (capable of withstanding the huff and puff of a wolf, for example.) We have walked around the village, observing and comparing the different buildings and building materials used for different reasons and at different times. We hope to use this understanding to design and make model Ideal Homes.
In Mathematics we have studied calendars and dates, and then halves and quarters especially of pizzas, in order to move on a step with telling the time on a clock face. Using the flat net shapes of cubes and triangular prisms helped in our making of tents and shelters. We are now learning about multiplying numbers and will continue counting in 2s, 10s and 5s, moving on to 3s and 4s as soon as possible. How many dwarves in two stories about Snow White?!
In RE we have been learning some traditional Muslim stories - both stories about the Prophet Muhammed and some told by him. His characteristic kindness and care are good models for our work in PSHE, where we have been discussing friends and families and how we look after each other.
In Gymnastics this half term, the children are learning to control and shape their jumps and land safely. With Mrs Kite, they are learning the principles of throwing and catching objects: the more practice the better (please!) as well as improving their fitness.