July
As the end of term approaches we have waved goodbye to our class butterflies. For three weeks they have provided daily interest and we have recorded them growing from caterpillars less than 1cm long, to monster caterpillars nearly 4cm long, pupating into chrysalises and then, most wonderfully emerging as adult Painted Lady butterflies as we watched. The children have loved them!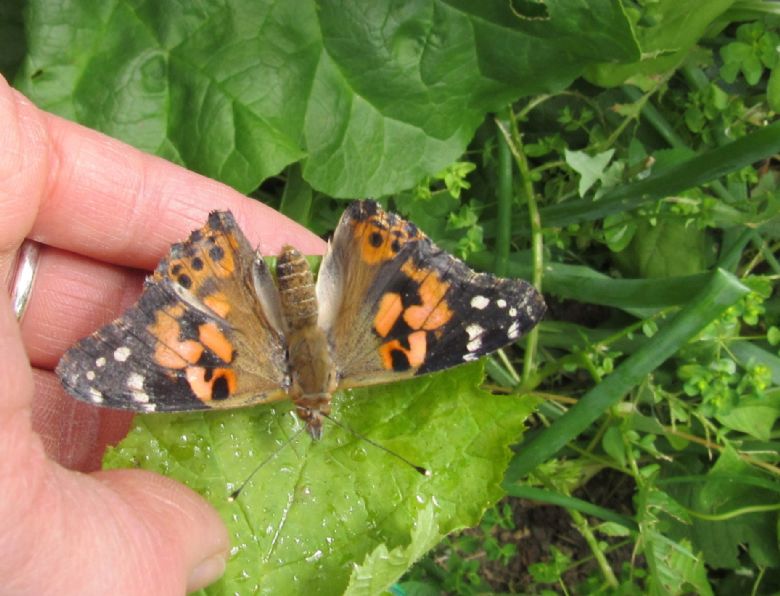 Our minibeast topic this half term has provided the stimulus for lots of carefully written explanation texts, minibeast multiplication (woodlice have 7 pairs of legs: that's 14 in all, millipedes have 2 pairs of legs on each segment: perhaps 11 x 4, that's 44 legs in all!) and some beautiful collage artwork in the style of Eric Carle: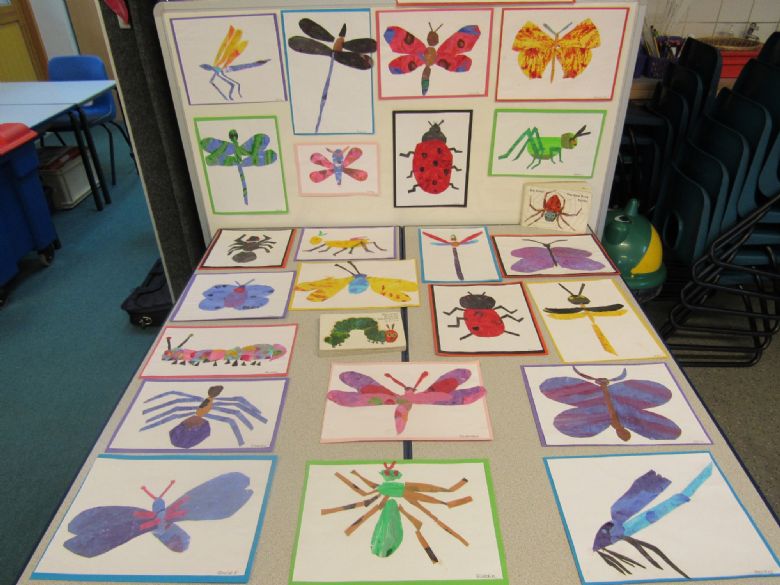 As part of our learning about Christian family life, Class 2 have studied ceremonies to welcome babies and to get married. In April the children went to St Lawrence's church and Rev Angela talked them through a re-enactment of a baptism, carefully explaining the symbolism of the water and the candles, and the promises made.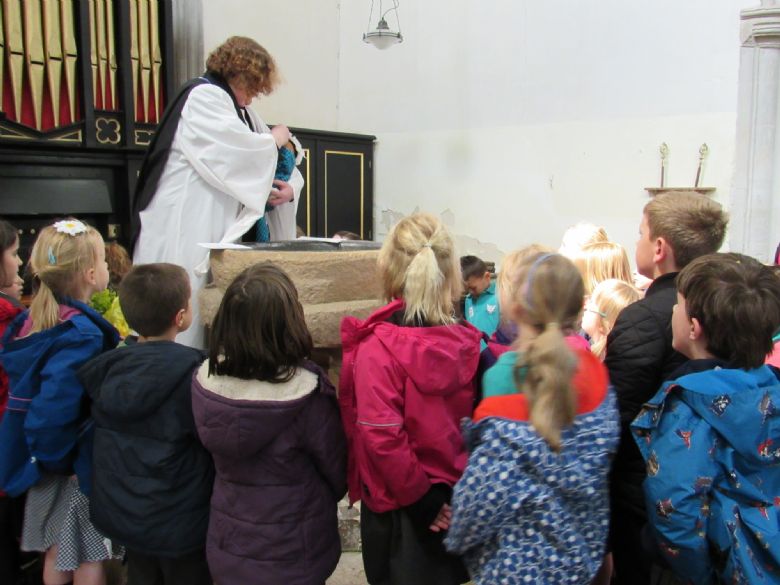 This term we have studied weddings and tried to answer the questions: why do some people choose to get married - and if so, why might they choose to get married in church? In class we have discussed marriage as a ceremony where two people promise to try to stay together forever - noticing how difficult this is sometimes. The children know how difficult it is for them to stay friends all the time and what qualities it takes to make a friendship work: being patient, being kind, thinking of the other person, choosing your words carefully, not holding onto grumpiness and so on. Once again, we gathered in St Lawrence's church, this time dressed for the occasion and accompanied by lots of parents and carers. Rev Angela talked us through the Christian marriage service, the symbols and the promises. And once again, we came back to class for the party - with Luc's Mum's delicious cake!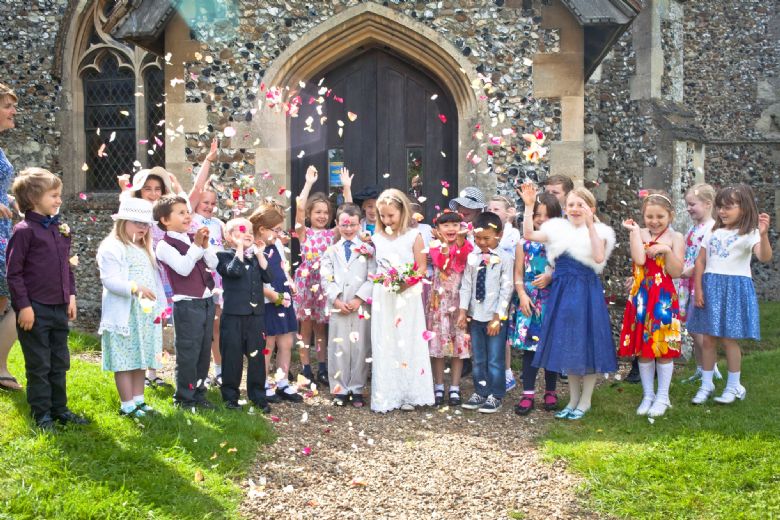 June
The children in Class 1 and Class 2 had a happy Science trip to Wicken Fen. In the morning they explored the habitats for minibeasts: in the grass, under logs and in the pond, delighting in finding grasshoppers, ladybirds, beetles, centipedes, millipedes, ants, spiders, water boatmen and great diving beetles, as well as beautiful blue dragonflies hovering above the water and their fierce-looking nymphs in the water.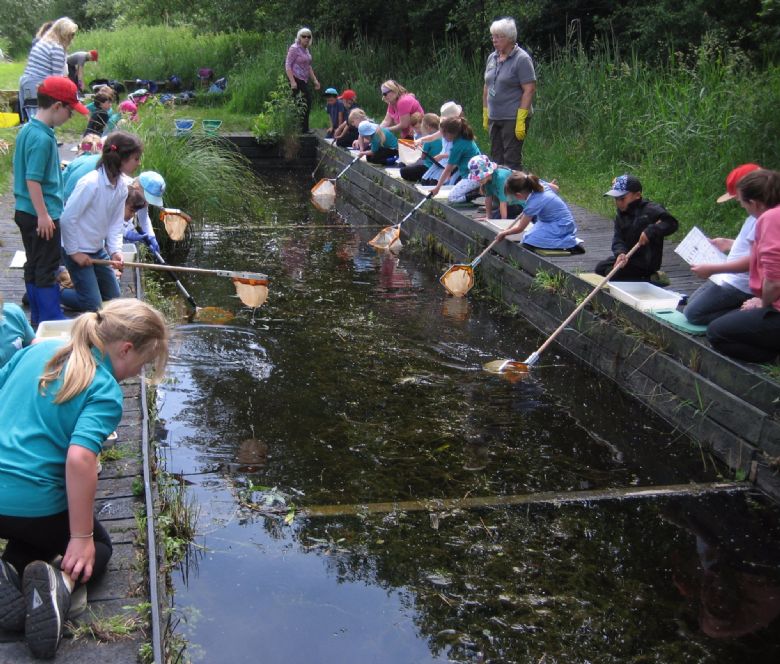 After lunch Class 2 children investigated owl pellets: the undigested and regurgitated remains of an owl's carnivorous mealtime. Carefully teasing out the tiny bones, sorting them and identifying them has been fascintating. In one owl pellet there were 10 jaw bones - that's the remains of 5 shrews!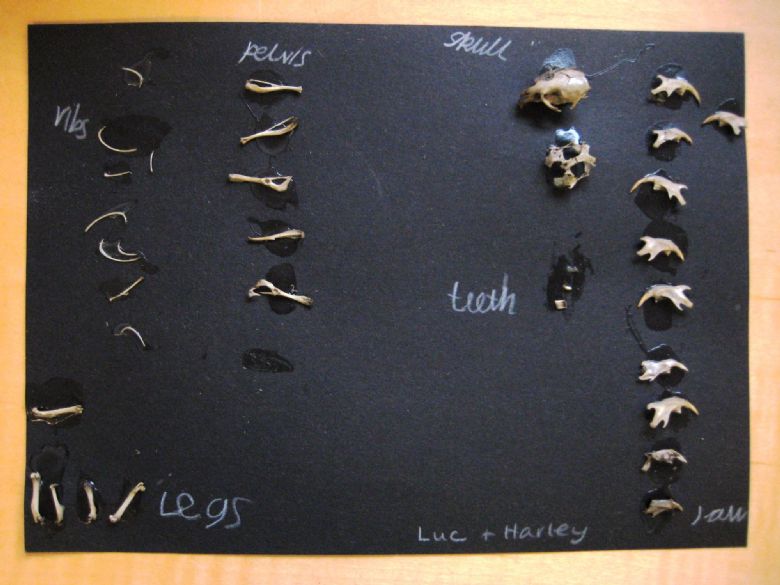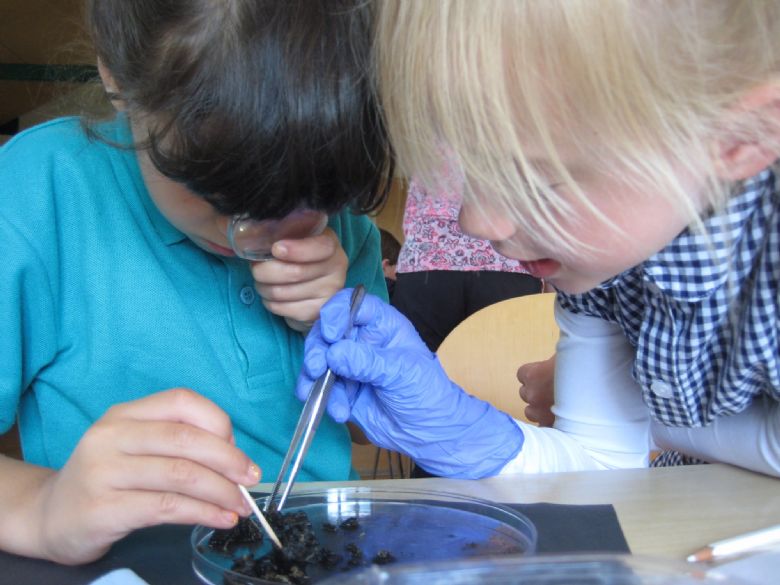 We are very proud of our finished Modroc animals! Layers of Modroc covered their interesting internal structures (see May's news). Then the children had lots of fun painting each animal. For the peacock's fine 'eye' feathers, each child contributed an eye made of concentric layers of tissue paper. In their group, the children have neatly typed up information about how their animal lives in its habitat, the food it eats and the ways its body has evolved to help it find its food and avoid its predators.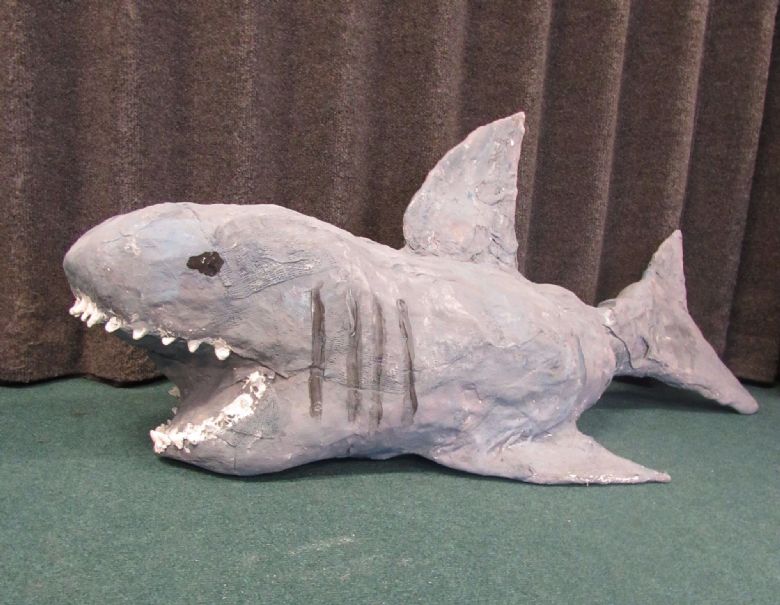 May
The children are pleased to have sunflowers and a baby chestnut tree growing in pots just outside our back door. The sunflower seeds were collected from last summer's sunflowers and we planted them, not really expecting them to make it through the winter. However, there weren't too many frosts and the brave sunflowers have survived and are growing quickly. Two weeks ago the tallest one measured 32cm, now it's 64cm. Class 2 children worked out that means it's DOUBLED IN HEIGHT in 2 weeks! The baby chestnut tree is growing from a conker collected in the Autumn. It's 25cm tall now, up from 21cm two weeks ago. We've talked about the chestnut tree growing more slowly than the sunflowers but it's got time as it might live 100 years and reach 40m tall.

This term we have been studying how animals live in their habitats, the food they eat and the ways they hide from their predators and from their prey. We've chosen one animal from each animal group (a mammal, a reptile, an amphibian, a fish, an invertebrate and a bird) and have started making big models of them which we will Modroc and paint. Some surprising things have gone into the animal structures: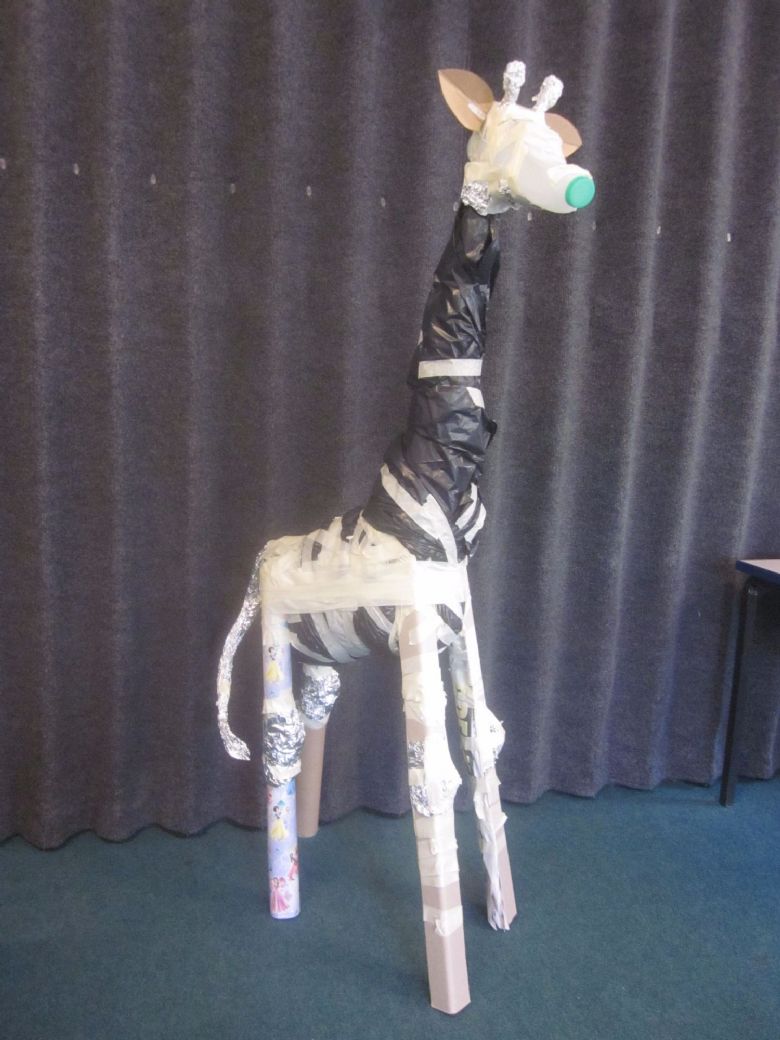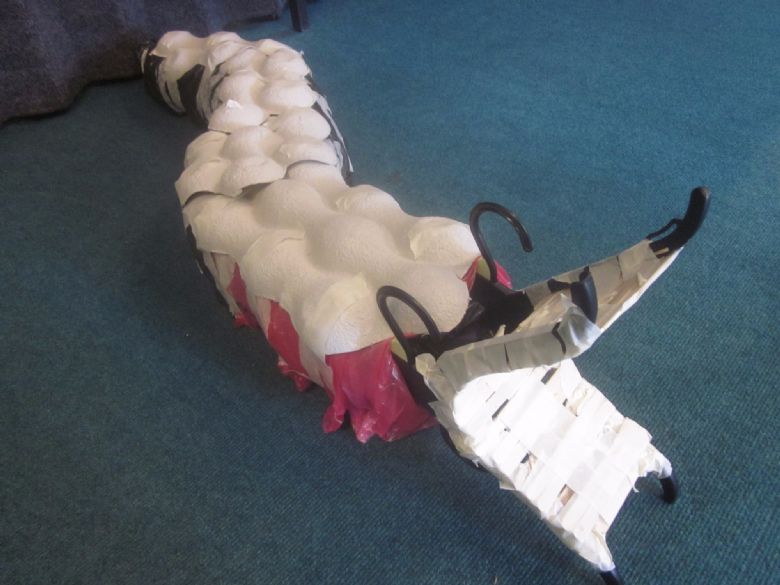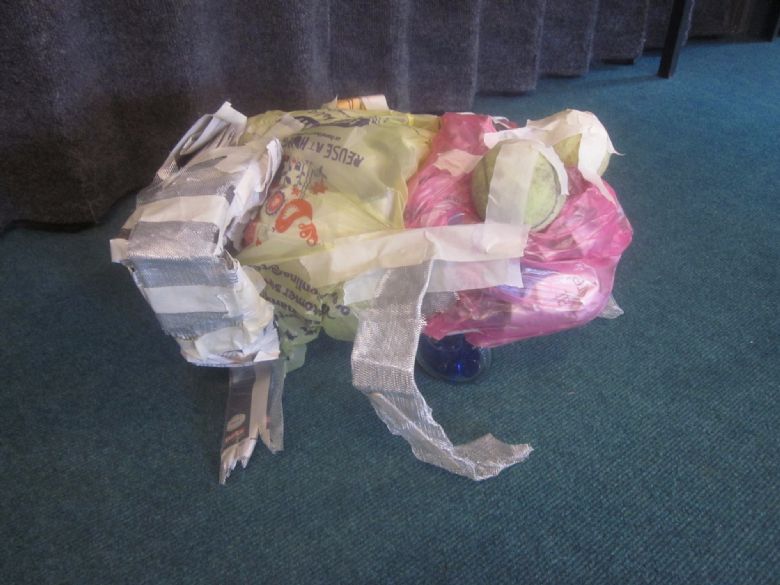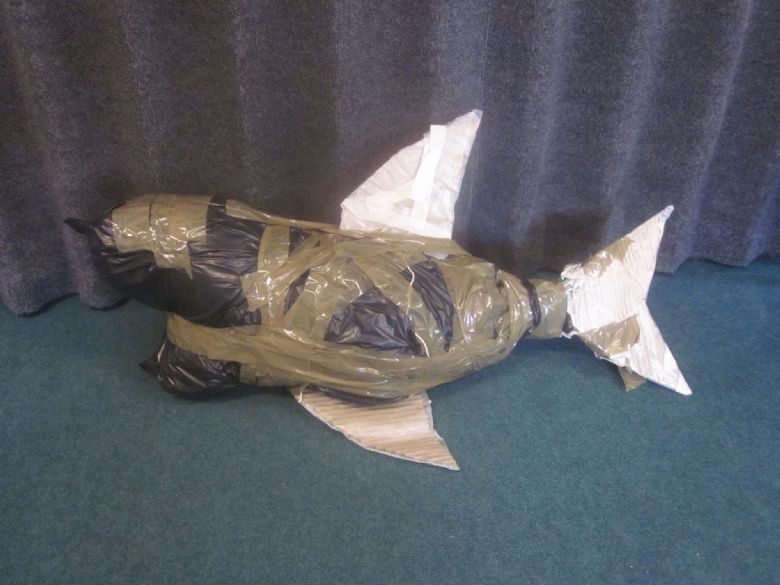 The crocodile has coat hangers in its jaw. The giraffe has a tube of wrapping paper in one of its legs and a milk carton for its head. The frog has tennis ball eyes. The shark has a big bin bag of newspaper for its body and pencils holding the fins in place. The butterfly has the leg from a pair of tights for its body and the peacock has stones for its feet. Next we will add layers and layers of Modroc!
April
This term we have starting reading and and writing about Katie Morag, her family and her adventures on the fictional Scottish Isle of Struay. The children have been thinking about physical geography and human geography, and are beginning to understand how the landscape of the island plays such a big part in Katie Morag's adventures. They have been practising using adjectives to describe the views Katie Morag sees. To quote:
Isaac: Chickens were pecking. The sun was sparkling brightly. People were walking down the street by the sea.
Emma D: She could see the sparkling sun above her and the deep blue sea below.
Thomas: She can see the woolly sheep.
Clara: She saw the big blue waves crashing together underneath the streaks of lightning.
Henry: She can see the boat. It is stormy.
In DT, the children have built a model of the island, starting with junk modelling, covered with layers and layers of Modroc ("Smooth and smooth and smooth and smooth") and have painted it. We will add model buildings and other elements of human geography as our learning continues.