Aladdin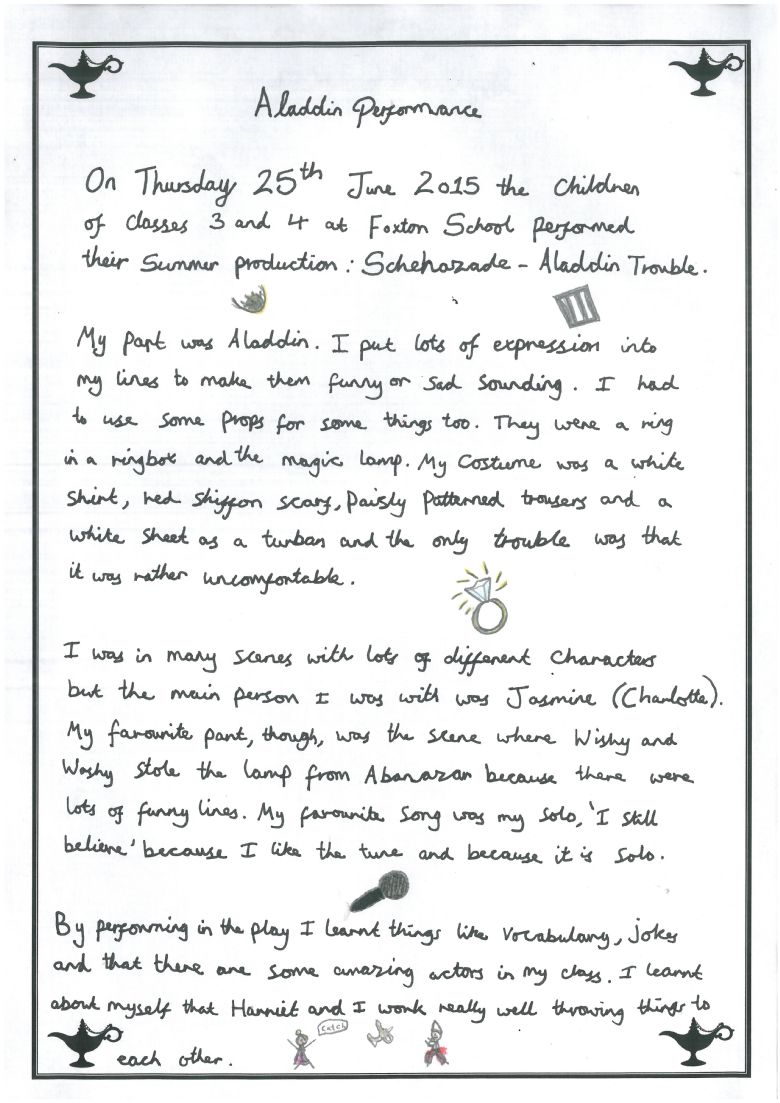 This year's Key Stage 2 Summer production was Aladdin. The children performed brilliantly and Mrs Kite directed and produced the play with great dedication! Above, Isabel writes about her experience of taking part in the play.
Grafham Water
From Wednesday the 10th to Friday the 12th of June Class 4 went to Grafham Water for a school trip. We stayed for three days and two nights. For some children this was the first time they had stayed far away from home. The accommodation was very good and we had three brilliant meals a day. We took part in many activities such as raft building, mounting biking, high ropes, archery, problem-solving and orienteering. We were accompanied by Mr Atkinson, Mrs McDonald, Mrs Vaughan, and Mr Van Bochoven.

On Wednesday morning when we arrived at school, we had to put our suitcases outside the school before they got put on the coach. We did the register, all went to the toilet and lined up in pairs and headed for the coach. All our parents and Classes 1, 2 & 3 waved us all off - when we left it was very noisy on the coach! When we arrived everyone was very excited. When we got off the coach we took our suitcases to our lounge than we sat down had a drink and a biscuit while our group leaders told us about what we would be doing while we were staying at Grafham. After that we got put into 3 groups and our leader took us on a tour of the outside area of the centre. After that we played some games and then we headed down to the cafeteria to have lunch. After that we all found out what activity each group would be doing. One group did a 10 mile bike ride and another did raft-building. After dinner we went our lounge to write in our Grafham diary before we went outside to play some games on the meadow. At night we had hot chocolate and a story called The Wreck of the Zanzibar. Then we went upstairs to read our own books for ten minutes after that it was lights out.

In the morning we got up and went into the foyer and then they went into the cafeteria to have breakfast. After that, the children went back to the foyer to go into their assigned groups A, B and C. Then group A (doing raft building) went to the lounge to design a raft in their two groups and then make it out by the reservoir and then they went into workshop 2 to get wetsuits to use the rafts on the reservoir. Group B did archery and problem solving on the field. Group C went to get bikes because their activity was mountain biking. They had to get the right equipment such as helmets, gloves and goggles. Once all three groups had finished their activities the groups met up in the lounge before lunch. Everyone played a game called stomp. Then it was time for lunch. Once everyone had finished the groups went back to the lounge to find out their next activity. Group A were going to do high ropes, Group B were going to do raft building and Group C were going to do archery and problem solving. The high ropes activity included a ladder called Jacob's Ladder. There were also the low ropes. Once all the groups had finished everyone went into their rooms to change or have a shower. Then everyone filed out to the cafeteria for dinner. After that everyone went into the lounge to write more in their Grafham diaries and then went out to the meadow to play kick rounders or other games. Like the night before, everyone went back into the lounge to have hot chocolate, followed by getting into pyjamas. We all went into the boys' corridor to read more of our class book: The Wreck of the Zanzibar. After we had heard two chapters then we went back into our rooms and one by one we dropped off to sleep.

On the last day we started packing our bags. After that the adults came round to check we hadn't left anything. Then we took our bags to the lounge and got in our groups to do our first activity of the morning. Group C did high ropes which was really scary to start with. Group B did mountain biking around the reservoir (10 miles) while Group A did archery and problem solving. For lunch we had jacket potato and salad. After that we all did orienteering. We got into pairs and had to find the signs scattered around the Grafham Center. After we had done the orienteering it was time to go home so we got on to the coach and drove back to school. Once we were at school we got our bags and found our parents and went home. We were all very tired but very happy.

When we got home I expect all of us wanted to have some time to relax! Grafham has inspired me to try new things and be adventurous with what I do in my spare time. I learned that people can look weak on the outside but be strong on the inside. Some people have conquered fears they have had about heights and being in water. Thank you, Foxton School for the lovely trip!

Hannah, Max, Maddie, Leah, Josh & Harriet

Science Visits
In 2015, Class 4 had two visits from a scientist. And also set us a science challenge to turn rock salt into table salt. Here is information of what happened and what we did on the days she visited and our science challenge day. The visits from Mrs Warren were extremely enjoyable, and Class 4 learnt lots and had a great time. The visits took place over three Monday mornings.

On the first day we had a visit from Mrs Warren, who works for Johnson Matthey and the University of York. She explained the different types of jobs you could get in science including Resources manager, the Safety manager and the Recorder. Then she told us what we would be doing. We were told about the ingredients in soap and how to make it. Firstly you grind up the soap flakes in a pestle and mortar. Then you add the glycerine and stir it. Choose your favourite scent and colour then add a few drops of both. Put them in a mould for about five minutes. After that we made bubbles from washing up liquid, glycerine and water. We did a test for whose bubbles were the strongest (the ones which took longest to pop). We did a table of results on the board to see who won.

The second lesson was taken by Mr Atkinson instead of Mrs Warren. We had been set a challenge to turn rock salt into table salt. This was a good time to see how well we worked as a team, as well as the challenge of turning rock salt to table salt there was also a competition of which team could get the purest salt. We did this by firstly putting the rock salt in a container with water and stirred it till the pieces were dissolved. Then we filtered it with a coffee filter. With the salt solution we put three teaspoons (15ml) into an aluminium foil case. We evaporated the water to leave behind the salt and sent the salt samples t Mrs Warren. We found out how pure our salt was by sending it off to Johnson Matthey to analyse after we had purified the salt. Each group worked well as a team to purify the salt. It was extremely fun.

In our last lesson with Mrs Warren we learnt about viscosity (the time it takes a liquid to flow.) We were given some liquids and tested how viscous they were by running the liquids we were given and timed how long they took to flow down a tube. We put the results together and it told us which liquid was the most viscous. This lesson was very fun and we learnt a lot.

William and Elizabeth
Summer Term Newsletter
The spring term was busy and full of new things. A small number of Class 4 children went to France as part of a large group of young performers to sing in Noye's Fludde, and also performed later in the term in Comberton. As part of a partnership with Johnson Matthey we were visited by Clare Warren of York University who taught two science mornings and spoke to the children about the links between industry and science.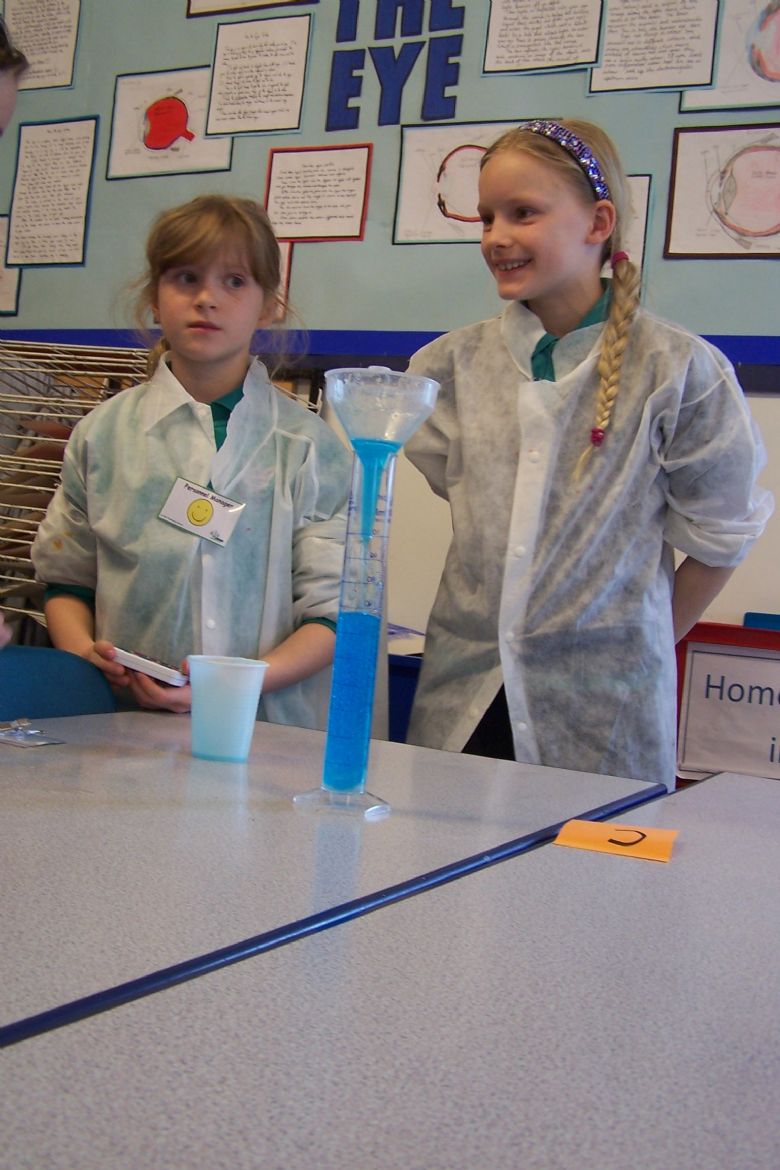 The children purified salt and had their samples sent for a proper laboratory analysis! In English the children worked on myths and legends and we linked this to our learning about Rome in history. In mathematics the children investigated 3D shapes and their properties and learnt how to read and plot co-ordinates. In science we learnt about the states of matter and how materials change state form solid to liquid to gas. We also had our safety week and the children were treated to a whole range of visitors who reminded the children how to keep themselves and others safe, both online and whilst out and about. Last term also saw the first rehearsals of the KS2 summer production.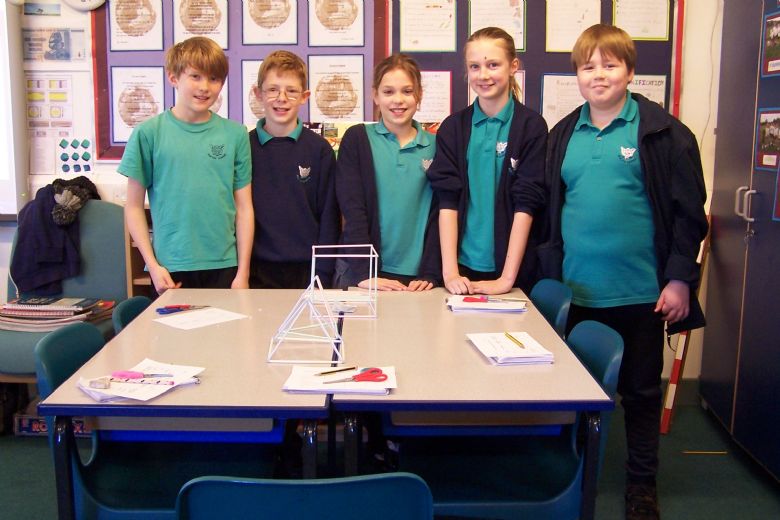 This half term has just begun with a fantastic exhibition of extended homework projects on the Romans. The standard of work and presentation was truly excellent and the children were able to show the rest of the school their projects in our class assembly. The beginning of this half term will be spent with an increased focus on the test week so that the children are well prepared. In English we will be learning about journalistic writing as well as exploring and writing poetry. In mathematics we will be calculating the area and perimeter of shapes, looking time problems and exploring different methods of calculating multiplication. Our history topic this half term is to learn about the Anglo-Saxon and Viking influence on Britain and we will be visiting the Museum of Archaeology and Anthropology in Cambridge early next month. This will give us an opportunity to see real artefacts from the time of the Romans as well as Anglo-Saxon and Viking objects. In science we will be planting flowering plants and learning about their lifecycles, whilst in computing we will be learning about how to create and use a database. It promises to be another busy and exciting term!