June/July 2015
Our main topic this half term has been Growing Plants and we had a fun and interesting day at Wandlebury with Class 2. The Reception children collected flowers and grasses for sticky bookmarks, made careful leaf and bark rubbings and used their observation skills on a scavenger hunt. Meanwhile, Year 1 children joined Class 2 children in studying the plants growing in the different habitats: particularly the dark, crowded woodland and the bright, breezy meadow. We were also able to observe the bees, up close but safely, in the observation hive in the apple orchard.
The children have been growing potatoes for our national competition and from 6 seed potatoes have harvested a fantastic crop weighing 1535g! In the garden they've been growing a different variety of potato, broad beans, carrots and onions which we will be harvesting before the end of term. The children have also planted their own broad beans to find out if it matters which way up you plant a seed (it doesn't!) and they have been observing and measuring their rapid growth and recording it in their Bean Diaries.
In Literacy we have been reading different versions of Jack and the Beanstalk and noticing the details that change and those that stay the same. Inspired by the giant's castle, they used Paint software to design their own castles and then in DT, carefully followed these designs to build their models with junk materials.
Thank you for coming to Sports Day and Celebration Evening. The Reception children did very well on their first race day and we all had a lovely time.
May 2015
In Literacy this half term we have been learning to tell the story of The Three Billy Goats Gruff by orally. The children have helped to make a small world scene of a mountainside, a river with a bridge and some grass, made of cress.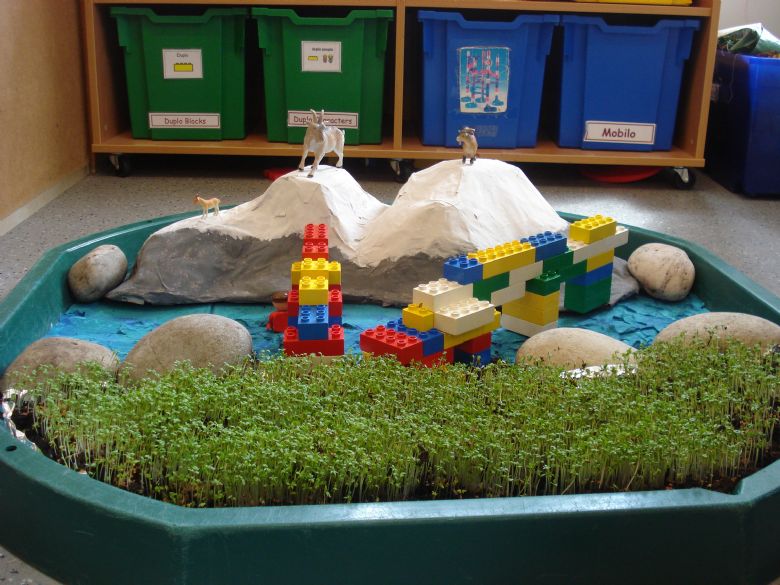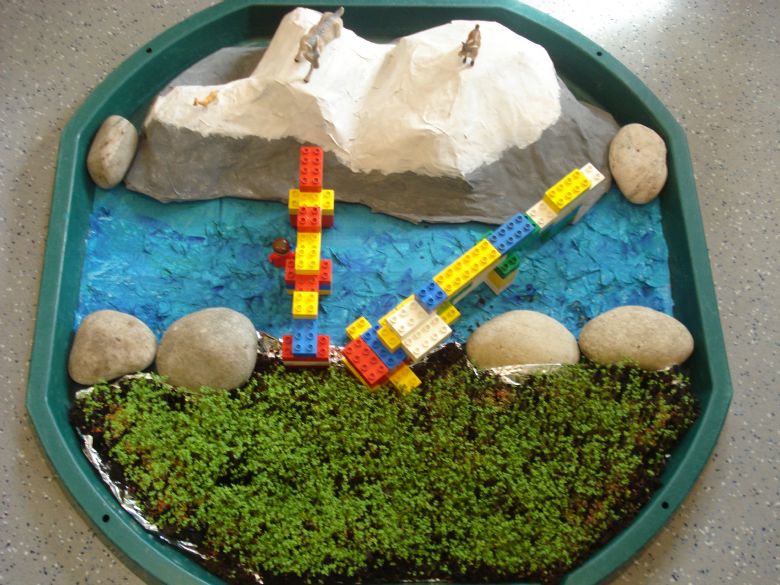 April 2015
In our Transport topic last half term we enjoyed many activities which helped us to learn about transport today and in the past. The children made some fantastic model vehicles and were particularly interested in making the axles and wheels so that their models could move. We enjoyed role playing a car journey in the past, complete with starting handle and a flag bearer to walk in front! The children had great fun when they brought their bikes and scooters in to school and were really interested in looking at photographs of the very first bikes to see what they looked like. They were particularly curious about how to get on and off a Penny Farthing! We had a very successful trip to Audley End as you will see from the pictures below. The children very much enjoyed the train ride and the play area, as well as being shown how a steam engine works. We couldn't have had better weather – so it was worth waiting for!
Also last half term, we thoroughly enjoyed our Dance work with Miss Jackson, which resulted in a wonderful dinosaur dance incorporating various movements from hatching from eggs, stamping, flying, gliding and pouncing.
Safety Week was a great event with lots of practical activities from practising crossing the road, learning how to ask for help if lost to visitors who talked about rail safety and road safety. The week ended with a Buddy Forum where we discussed how to stay safe on line.
Our topic this term is Our World and as part of this work we will be exploring our outside environment, looking for signs of Spring, as well as learning about the wider world using maps and globes. As part of our Literacy work this half term we are reading the exciting story of Tom and the Island of Dinosaurs, a tale of adventure which involves children, a message in a bottle, a lighthouse, a hot air balloon, dinosaurs and an island with an exploding volcano – what more could you ask for from a story! We will also be learning about Creation stories from around the world. Our science work later on in the half term will be on naming and classifying plants and in PE we will be working with the apparatus in Gymnastics to explore travelling movements.